Products > SSR R-134a Kits Cryoseal® and Tune-Air®
(Sealant) (Dehydrant)
We Take the "TOUGH" Out of A/C Repairs




Self-Sealing Kits
The SSR R-134a Kit repairs leaks in mobile air conditioning systems, WITHOUT REMOVING THE EVAPORATOR CORE, THE DASH, AND AIR BAGS FROM THE VEHICLE. The esoteric chemicals utilized in our SSR process is a boon to the service center, maintenance center, A/C professionals, and consumer/customer. This product is also used in small refrigerated systems.

Our Cryoseal® sealant process works by introducing active chemicals into the refrigeration system which will circulate with the refrigerant. While within the bound of the system, the chemical circulates inert and remains completely neutral toward system components. When the chemical circulates with the leaking refrigerant, it reacts with oxygen and water (air and humidity) and polymerizes to form a solid non-deteriorating, polysiloxane seal that PERMANENTLY REPAIRS THE LEAK. The ideal part of the process is that the leak does not need to be "physically located" in order to be repaired. Expensive components of the refrigeration system do not need to be replaced.

Our SSR Cryoseal® for R-134a systems is a multi-functional organo-silane chemical compound that performs in a complex three step reaction. This synthetic supra-refrigerant called Cryoseal® will:
1. SEAL PRESENT LEAKS AND WILL PREVENT FUTURE CORROSION
LEAKS.
2. Tune-Air® DEHYDRATES THE A/C SYSTEM WHICH INHIBITS
ACID FORMATION.
3. PROMOTE BETTER LUBRICATON WHICH INCREASES THE LIFE OF THE EQUIPMENT WITH A HIGH LEVEL OF EFFICIENCY THAT RESULTS IN THE OUTPUT OF CRISP COLD AIR.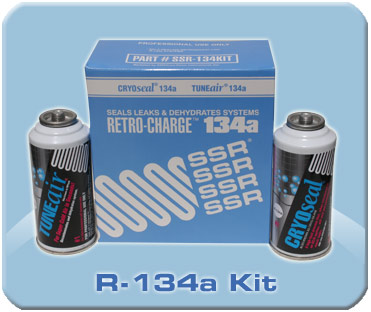 SSR R-134a Self-Sealing Kits

The SSR R-134a Kits are available for purchase in two 4 oz. cans. Our kits can be purchased by the case (6 kits=1 case), or skid load. Discounts will apply when purchasing one case or more.
Click to see How To Order

For More Tech info click here
For Procedure Guide click here
For Warranty info click here
Always Recycle/Recover/Reclaim
MSDS Sheets are Available Upon Request